3T Products was formed in 2007 by Todd and Troy Laudenslager of Mahantongo Game Farms. Mahantongo Game Farms has been raising game birds since 1935. The mission of 3T Products is to provide one-stop shopping for quality products at a fair price. Our goal is to utilize our experience and combined volume to provide both proven and new products that will enhance the game bird and other industries.
Product of the Month!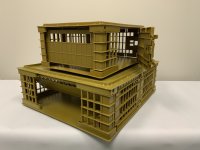 Price: $89.00
Explanation of door and panel options. Hinge doors have latch and swing outward from crate. Flip doors do not latch (held shut only by gravity) and swing up and into the crate. Panel does not open.

More Details